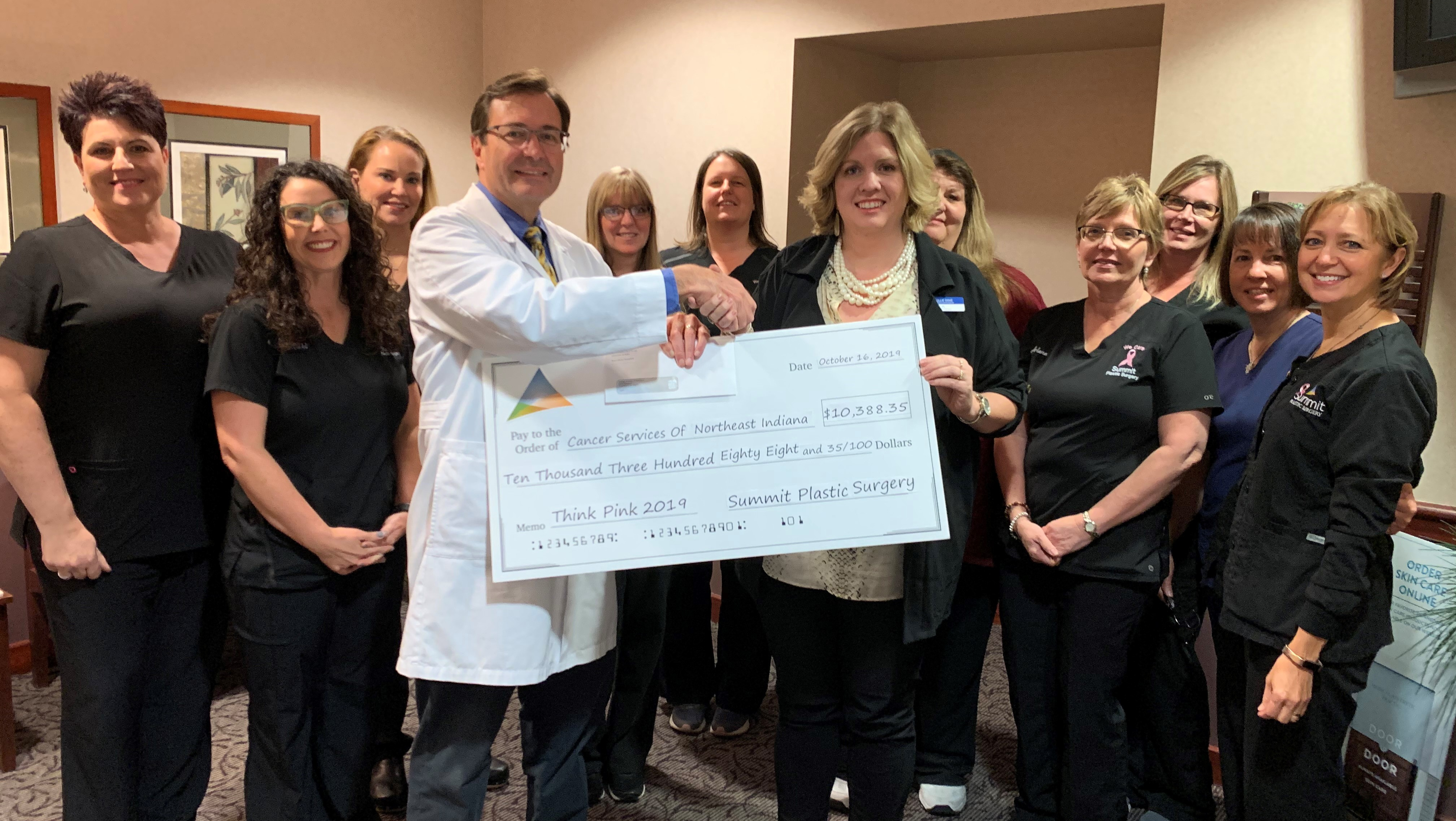 A HUGE Thank You to everyone that helped us raise money at our Think Pink event this year. With your help, we were able to present a check for $10,388.35 to Cancer Services of Northeast Indiana! The physicians and staff of Summit Plastic Surgery strongly believe in giving back to our community and we couldn't do this without your help!
Special thanks to BJ's Restaurant & Brewhouse for donating yummy food and Chapman's Brewing Company for donating their delicious beer! The generosity of these businesses allows us to reduce expenses and donate more money to a worthwhile cause. Please show your thanks by stopping by and checking them out!
We would also like to thank everyone who donated items for our silent auction and giveaways. We couldn't do this without their generous donations!
Rolling Pin Bakehouse
Sechler's Pickles, INC
The Olive Twist, Inc.
Stephanie Dawn Designs
BarkBox
Laney Family Honey Co.
Mad Anthony Fundraising
Indiana Pacers
Byler Lane Winery
Pittsburgh Steelers
Granite City Food & Brewery
Mad Anthony Brewing
MidWest America Federal Credit Union
S. Pacula Jewelry
Indianapolis Colts
Chicago Cubs
Vera Bradley
Matilda Jane Clothing
Idlehour
Peg Perego
SkinCeuticals
Bussick Orthodontics
CoolSculpting
Mackinac Island Carriage Tours
Blue Gate Garden Inn
Hop River Brewing Company
First Presbyterian Theater
Northwood Cinema Grill
Country Kitchen SweetArt
Fort Wayne Parks & Recreation
B. Antonio's Pizza
Crazy Pinz
Auburn Cord Duesenberg Automobile Museum
Bandidos Mexican Restaurant
Paula's on Main
BakerStreet Steakhouse
The Hoppy Gnome
Proximo
Fort Wayne Children's Zoo
Picaboo
Fort Wayne Komets
Three Rivers Distilling Company
DeBrand Fine Chocolates
Hysterium Escapes
Fort Wayne Massage Center
Vital Living Well Spa
Fort Wayne Dance collective
Rosewood Carriage Rides
Fox and Fox
Honeywell Center
Cinema Center
Ultrazone Laser Tag
Fred Toenges Footwear
Kristine Logan Photography
Cookie Cottage
Sky Zone Fort Wayne
Putt Putt Fun Center & Go Carts
Casa
Fort Wayne Museum of Art
Sweet Aviation
Mutton Party & Tent Rental
Fast Track Racing
Elements Massage
The Poppy Cottage
Korte
Clyde Theatre
Indy Car Grand Prix
Ziebart
Catalyst Fitness
Fort Wayne School of Dance